We Love Our Racks Campaign to Raise Funds and Awareness for the King's Daughters Health Foundation Mammogram Fund
ASHLAND, Ky., October 1, 2019 — It's Breast Cancer Awareness Month and Smokin' J's is taking a big stand with their "We Love Our Racks" campaign. This locally owned and operated business is teaming up with the community to raise funds for the King's Daughters Health Foundation Mammogram Fund. King's Daughters uses this fund to pay for potentially lifesaving mammograms for underinsured and uninsured locals in the tri-state.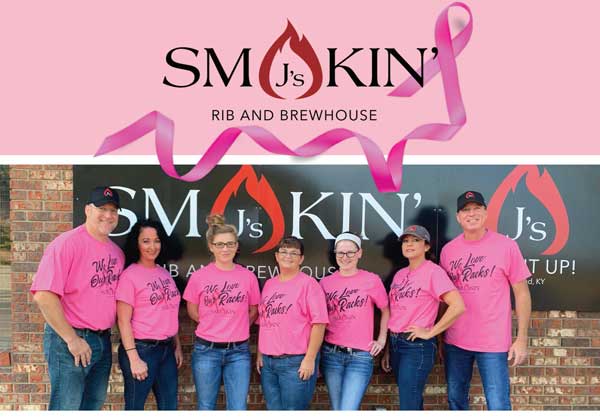 How do you get involved? Eat ribs! For the entire month of October, Smokin' J's is donating $3 for every rack of ribs sold, that includes dine-in, to-go, and catering orders. They are also selling "We Love Our Racks" t-shirts for $15 and $1 Ribbon Cards in memory/in honor of loved ones and friends that have battled or are battling breast cancer. 100% of the proceeds go directly to the mammogram fund.
"Breast cancer is a tragic disease that has likely affected everyone in some way. My mother is a two-time breast cancer survivor, so this cause is very near and dear to my heart. We are excited to work with our community to raise these much needed funds for this great cause," says Jason Camp, CEO and Owner of The 3J Group.
October 29th, King's Daughters Health Foundation Mammogram Fund is Smokin' J's featured Give Back Tuesday. Come in between 11 AM and 10 PM and mention to your server that you are there to support KDMC and 15% of your bill will be donated directly to the Mammogram Fund. Smokin' J's features a different organization every Tuesday. Follow their Facebook page to see all of the other organizations you can help in the future, as well.
The King's Daughters Mammogram Mobile Truck will be parked at Smokin' J's on October 19th from 10-2 PM. If you'd like to make an appointment for a mammogram on that day you can call the centralized scheduling mammogram line: 606-408-1111. That line is also open all year long, the mobile truck runs all year long, and there is no need for a physician's referral for an annual screening.
The Mammogram Truck has the same 3D technology that the Imaging Center in Ashland has. There is also a location in southern Ohio. The grant money used from the mammogram fund is confidential and not kept on any kind of record. If you are in need of a mammogram and are underinsured or uninsured, please reach out to King's Daughters and let them take care of you.
Smokin' J's Rib and Brewhouse
Smokin' J's Rib and Brewhouse is located at 1320 Wolohan Drive, Ashland, KY 41102. They offer a 160-seat full service restaurant with a full bar and an outdoor patio. Inside they have 26 flat screen, HD TV's where they play sports all week long. Their rib master, "Jimmy Ribs", has 43 National BBQ Championship awards under his belt. They do dine-in, take-out, and catering. They've fundraised with over 60 different community/school organizations, a number that is constantly growing. They also have a full-service food truck that frequents community street fairs and events all over the tri-state.
3J Group
The 3J Group brings over 75 years of combined restaurant, catering and event experience to offer our clients and guests the absolute highest quality and service. Jason Camp (CEO and Owner) has 17 years in professional sports in the NFL, MLB, NHL and professional athlete and event management. Past events include The ACE Group Classic (PGA Tour event), The American Sand Sculpting Championships, Naples Stone Crab Fest, Chris Paul (NBA All-Star) Celebrity Bowling Weekend. John Vorndran (CFO and Owner) has 25 years in fresh seafood purchasing/fish house, restaurant and event management expertise. Jimmy "Ribs" Blanke (COO and Owner) has 25 years of BBQ Pitmaster and restaurant operations to go along with his 43 National BBQ Championship awards. The 3 J's have come together to create one company with unparalleled history to create restaurant concepts, catering and event management. For more information please visit www.ThreeJgroup.com, call 606-353-9953 or email Jason@ThreeJgroup.com.
If you would like more information on this subject, please contact Kari Huffman at 606-922-2208. 
---
Related Post
---